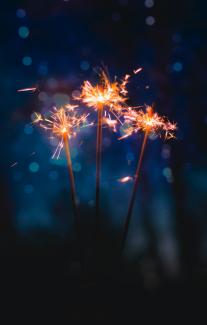 Celebrating the 4th of July: Reflecting, Relishing, and Revelating
Dear Constant Investors,
As we approach that time of the year, where barbecues light up and fireworks illuminate our night skies, we would like to take a moment to share our heartfelt message about the significance of the upcoming holiday - the 4th of July, and extend our warmest wishes to you.
To many, the 4th of July signifies a day of relaxation, an extended weekend of fun, picnics, and parades. Still, it's crucial that we take a moment to remember the historical context and the deep significance that this day holds in the heart of every American.
Our Founding Fathers declared independence from Great Britain on this day in 1776. This was a defining moment that encapsulated their brave pursuit of liberty, freedom, and a vision for a nation built on democratic values. It was an audacious move, a leap of faith into the future of America. The signing of the Declaration of Independence marked the beginning of a journey that transformed thirteen colonies into a nation - The United States of America.
The spirit of independence is ingrained in our nation's DNA. It was present in the rebellious hearts of our forefathers and echoes in the entrepreneurial spirit that drives our economy today. It is evident in our commitment to innovation, pursuit of knowledge, and our enduring belief in the American dream.
As we commemorate our nation's Independence, we also honor the commitment, courage, and sacrifices of countless individuals who have worked tirelessly to uphold the principles of justice and freedom that our country was built upon. These values are the pillars that support our nation, shaping our society, and influencing how we conduct our businesses.
At Clark Associates Financial Planning, we are proud to contribute to this spirit of innovation and independence. We uphold the American values of hard work, integrity, and service, ensuring that these principles guide us in every decision we make. Our commitment to our clients embodies these principles as we continuously strive to offer the highest level of service and products.
As we head into this long weekend, we encourage you to celebrate in your own unique way. Whether you're firing up the grill for a family barbecue, heading to a parade, or just enjoying a quiet evening watching the fireworks, we hope you take a moment to reflect on the courage, vision, and dedication that this day represents.
As we celebrate our nation's birthday, let's also celebrate each other. In the spirit of July 4th, let's strive to respect our differences, learn from each other, and work together for a better future.  God Bless America!
On behalf of everyone at [Your Company Name], we wish you a safe, enjoyable, and meaningful 4th of July. Let this day be a celebration of freedom, unity, and the American spirit. Happy Independence Day!
With Warmest Regards,
John P. Clark, CFP(r) and the Whole Clark Associates Team!